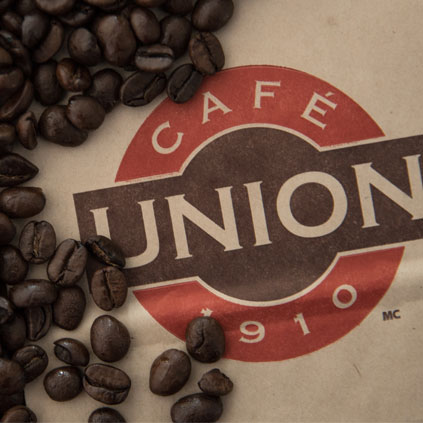 Terms and conditions
Return policy
We are committed to providing you excellent service and helping you find the coffee or equipment that best suits your needs. Included below are our policies which govern shipping damage, exchanges, returns and warranties. If you have any questions on these policies, please don't hesitate to contact us at info@cafeunion.com
Delivery policy (within 5 days of delivery)
Please report damaged, missing, defective or malfunctioning merchandise immediately and no later than 5 business days following delivery.
Damaged merchandise
Items are carefully packaged to protect against damage during shipping. Please carefully inspect your package when it arrives for any shipping damage. If an item appears to be damaged, do not attempt to use it and notify us immediately so that we can begin the claim process with the shipping provider.
Missing merchandise
Please note that we often ship orders in multiple packages. However, if items are apparently missing from your order, please report it to us immediately so we can track packages and replace the shipment if necessary.
Defective of malfunctioning new merchandise
If any item is not working properly or if a consumable item was received expired, please contact us immediately so that we can send a replacement. All replaced items will have a new 5-day return window allocated to them, or the remainder of the return window from the original purchase, whichever is longer.
Exchange and return policy: Purchases via the phone or website
Website purchases are eligible for return within 30 days of the shipping date. Shipping and handling fees will not be reimbursed.
How to request an exchange or return
You must first obtain a Return Merchandise Authorization (RMA) number from us for your exchange or return to be accepted.
Contact us via email (retour@cafeunion.com)
Let us know why you would like to return the machine.We can help you determine if another available product might better suit your needs.
We will send you an RMA email with detailed instructions on exchanging or returning your merchandise. Please review the merchandise-specific policies below to learn about what we can and cannot take back.
Espresso machine, coffee maker, grinder, all electric appliances
Machines must be received in 'Like New' condition. If your equipment arrives in this condition, we will refund the full purchase amount,minus our actual shipping & handling costs, according to the original payment method. Equipment that is not received in this condition will be assessed for damage and may be subject to refurbishment fees.
Note: Espresso machines that have been modified or customized (such as a self-installed PID or plumbing adaptation) are not eligible for return.
Other non-consumable items and parts
We will take back any unopened, unused non-consumable items, accessories or parts excluding electrical control boards which are final sales. If we receive your item in that condition, we will apply a credit to your original payment method in the amount of the price paid minus the total shipping & handling costs, if applicable. Items that were used or with damaged packaging will not be accepted for return or exchange.
Consumable items
Due to quality control and food safety issues, we are unable to accept returns on any consumable items such as coffee, tea, syrups, sugar and beverages. Even if these items are still sealed, we cannot assume they are tamper-free once they leave our facilities.
What is 'like new' condition?
We are reasonable and understand that a machine that was used a few times is not going to be absolutely perfect; however, it does need to be almost perfect for us to sell it as a certified used machine to another customer. When returning a machine to us, please make sure that it arrives to us in 'Like New' condition, which we define as the following:
All Original Components Intact: You must return every original component of the machine, such as the original packaging, portafiltersand filter baskets, user manuals, pitchers, and any other parts and accessories. We must receive everything that was originally in the box.
No Scratches, Dents or Stains: The machine and all components must be free of any surface marring.
Thoroughly Cleaned: The machine, all parts and components must be absolutely clean and free of any coffee grounds, water and/or milk residues.
If you have any questions regarding our return and exchange policies, please do not hesitate to contact us -- we are always happy to discuss this with you!