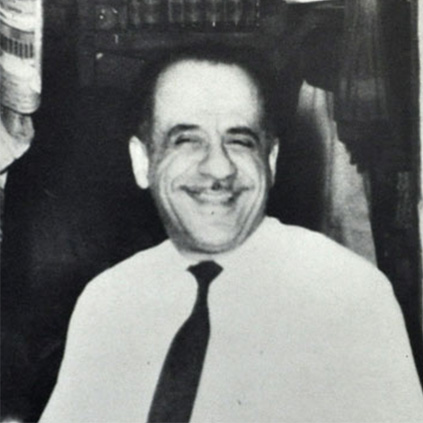 Our history
An adventure since 1910
Allan Dowbiggin and Albert Lisbona founded the Union Coffee Co., which first set up shop at Bonsecours Market in Montreal. It was originally a store of imported goods where you could find different spices, but also tea and coffee.

After 10 successful years in the business, Lisbona and Dowbiggin sold their company to Antoine Dumani. Four years later, a change in location brought the store to 1046 St-Denis street and in 1928, young 12 years old Nassif Kouri was hired as a delivery clerk. This marked the beginning of an adventure for the Kouri family within the Union Coffee Co.

The company changed location once more to settle down at 165 Ste-Catherine East. This is where Florence Simon fell in love with Union Coffee and Nassif Kouri, 22 years old at the time. In 1949, the business moved a couple of doors down to 160 Ste-Catherine East.

After having worked at Union for 36 years, Nassif Kouri finally became owner of Union Coffee Co.

Three years later, he opened a second store located at 148 Jean Talon Ouest, where a coffee roaster was installed. From that moment on, coffee became part of an even bigger offering, including coffee machines imported from Italy. Meanwhile, the memorable Madam Elise Lefévrier kept the business running on Ste-Catherine street.

Following Nassif Kouri's death, the business was taken over by his wife Florence and his son Eric. Together, naturally, they developed a strong sense of loyalty with their customers, due to their unique service and their personalized blends. Florence Kouri worked her fingers to the bone until her death in 1995. To the present day, Eric is still working.

The store on Ste-Catherine street closed and all activities were gathered to one location – the store we all know so well nowadays on Jean Talon Ouest. A third generation stepped in and started lending a helping hand: brothers Stephan and James Kouri and their cousin Andrew Taraby.

Union Coffee celebrated 100 years of existence with their loyal customers, suppliers and employees. In 2015, the wholesale division of the family business moved to Saint-Laurent's neighbourhood in a large facility located on Boulevard Montpellier where it is easier to store and organize commercial orders.

When a pandemic hits the entire world including businesses, Union Coffee was perceived as an essential service, but sales to offices and restaurants come to an abrupt halt indefinitely.

James Kouri takes advantage of this sudden standstill to develop two projects that he cherishes dearly: a line of microlot coffees and a cold brew division. Through Union Microlot, the company wishes to highlight specialty coffees and the producers behind them all while creating new business opportunities. With canned cold brew in tow, Union Coffee embarks on the ready-to-drink journey and takes advantage of a new laboratory where classes are available to all.

Renovations took place at 148 Jean Talon Ouest to make the space bigger for the clientèle. It was an opportunity for Union Coffee to offer a wider variety of machines and coffees, to optimize our services and to open up our workspace to all.