Shop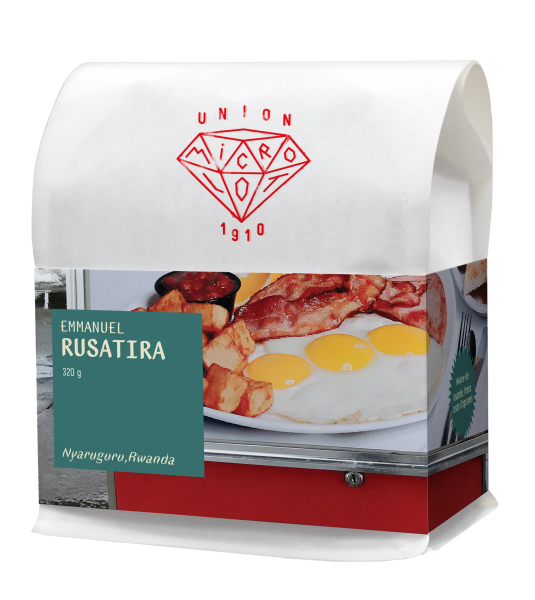 Emmanuel Rusatira

Light roast
Flowers | Berries | Orange zest
Origin : Nyaruguru, Rwanda

Farms : group of 9 plantations

Altitude : 1550-1850m

Varietal : Red Bourbon

Process : Natural

Harvest : 2020

* Roasted August 03,2021
Additional information
Ideal combo with the morning feast, this coffee first charms us with floral and fruity
aromas, reminiscent of lavender and cascara (pulp of coffee fruit).

The lot was gathered by 9 Rwandan farmers, located in the southern Nyaruguru
District. Together, they are named Abishyizehamwe. Their association helps them
find motivation, share knowledge and gain independence.

Fidel Manigaba, Celestin Uwizeyimana, Dorothe Akimana, Eperance Mukamparanyi,
Theoneste Hakuziyaremye, Claver Ntambara, Syliver Nsekuye, Didacienne
Nyiramakuba et J Bosco Ntirenganya each has their own farm but also operate
another one all together. They believe they could motivate others to become more
diligent farmers using themselves as an example, and it is partly why Baho Coffee
decided to work with them.

The Rwandan entrepreneur Emmanuel Rusatira created Baho Coffee so he could
gain greater autonomy himself and then generate better outcomes in his district.
"Baho's vision on community is guided by having a synergetic relationship with the
community of farmers that we work with, where we guide them and create solutions
in a replicable, sustainable and scalable manner leading to economic growth and
poverty reduction. Our overall vision is implied by the meaning of our name, Baho,
which in our local language means live/life." - Emmanuel Rusatira

So, Baho definitely has interest in working with the Abishyizehamwe farmers as they
can positively influence the local coffee business.

While producing coffee represents 25% of Rwanda's exporting market and most of
earnings are collected by multinational companies, a few independent businesses
like Baho Coffee prove to be more profitable for the country. By keeping the earnings
within the borders, these businesses can reinvest in the local market and
consequently, in the Rwandans' fate.

The Humure washing station is a concrete example of this, as Emmanuel purchased
it in 2018 and immediately made large investments in infrastructure. Two years later,
Humure becomes Baho's largest station, collecting the harvests of about 1500
farmers. It is also important to mention that Humure favors gender equity amongst
employees and is managed by a woman.

Thanks to Semilla Coffee's mediation, Emmanuel Rusatira can introduce this
amazing lot to us, from the genetic varietal Red Bourbon, sundried on beds with the
pulp for about 50 days.

The natural process consists of pulping and washing the coffee seeds only once they
finish drying, just so they absorb more flavour and aromatic compounds from their
fruit. It used to be considered dubious or inconclusive, only because nobody knew
how to approach it.

However, the natural process has now shown fruitful results, as we started
measuring and controlling the moisture rate of drying coffee by adjusting sun and air
exposure.

In the cup, a natural processed coffee will often expose a sweeter taste and fruit-like
aromas.

As an espresso or a filter coffee, this one reveals a complex bouquet of lavender,
cascara tea and citrus zest, as well as sweet notes of plum and strawberry.

With a French Press, we suggest a 1/17 ratio as in 30 grams of coarsely ground
coffee for 510 grams of hot water. Stir, let it steep, pour the liquid out in a jug and
serve!
Other items that may interest you