Shop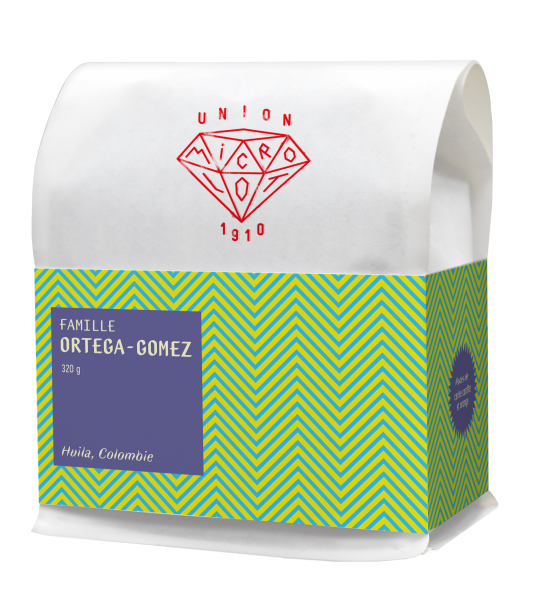 Ortega-Gomez

Light roast
Green apple | Candied Cherry | Citrus
Origin : Huila, Colombia

Farm : Villa Maria

Altitude : 1750m

Varietal : Red Caturra

Process : Washed
* Roasted August 03 ,2021
Additional information

Brilliant and flavorful, this coffee is reminiscent of childhood memories : a handful of
fruit flavoured and sour candies, quarters of green apple during summer, half a
grapefruit in the morning…

This is a lot of the Red Caturra varietal, harvested at Ortega-Gomez's Finca Villa
Maria, not far from San Agustin in Huila, Colombia.

The Ortega-Gomezes are a well-known family in the area, counting Don Olgar as the
father and Duvan, Esnaider and Lina as brothers and sisters. Together, they share
the same restraints and maintain really high standards. Esnaider even jokes about
how their coffee lives a better life than theirs.

His father and he manage the beneficio, where coffee fruits are processed. However,
Esnaider is also involved at different levels, such as elaborating the menu for the
varieties they grow. Through the years, he was able to add Tabi, Sidra, Castillo, Red
and Yellow Caturra, amongst others.

It must be said that Esnaider has had a particular path. His previous work as a
sample roaster and as a cupper for a major Colombian specialty exporter led him to
meet people and learn more about the international market.

Today, Esnaider partners with other well-established growers (from Los Naranjos
group), and initiates the Monkaaba project. Monkaaba's goal is to share knowledge
and skills through meetings and weekly cupping sessions, in order to help producers
find a better market for their coffee.

Too often, the price for their coffee comes with no explanation of how it's been
decided or what could be improved. So, Esnaider commits himself and shares his
knowledge with anyone interested in better evaluating their product, enhancing the
quality and having a better understanding of the market.

San Agustin and the surrounding areas could never benefit from agricultural mass
production given its high mountainous location and the narrowness of the lands
within. For this reason, commodity coffee crops are not financially viable for anyone.
Producers from the area are then compelled to strive for quality and more direct
trades, which is where Monkaaba prevails.

Besides their intention to help coffee producers prosper, the Ortega-Gomezes aspire
to perpetuate traditions. Over 60 years ago, their predecessors had to use wood and
clay - instead of bricks and cement - to build the fermentation tanks.

Even though it is unconventional, even though bricks and cement are now easy
ressources to find, San Agustin's beneficios still use wood and clay for this purpose.
Part of them wishes to pass on the heritage. On the flipside, the impact of the
materials on the fermentation process allows the producers from San Agustin to offer
something incredibly different and unique on the international market. Especially
since the results are great!

That being said, the coffee we have here has been left in a tank for 12 hours right
after it was harvested. It was then depulped and left again in a clean tile tank for 24
hours before they washed it 3-4 times.

Once washed, the coffee is dried on raised beds in an abundant amount of shade,
meaning it must be turned up to ten times a day, for about a month!

Thanks to Semilla Coffee's recommendation, we have the opportunity to taste the
fruit of their fastidious work. The Ortega-Gomez family is serving us a lot of the
varietal Red Caturra, grown at 1750 meters above sea level, revealing clean and
fruity notes within the cup.

We highly appreciated it as a cold brew. In a clean jar, we mixed each gram of
coarsely ground coffee to 15 grams of cold water. We closed it and let it sit for about
15 hours in the refrigerator.Then, we filtered it.

This coffee is also really good as filter coffee, espresso or french press! Right away,
it reveals aromas of candied cherry and citrus. Don't hesitate to experiment and
share your results with us on Instagram @unionmicrolot.

The Union Microlot series seeks to promote entrepreneurs with noble initiatives and
whose coffees really stand out as well as paying respectful prices considering the
labour required and the quality that results from it.
Other items that may interest you