Shop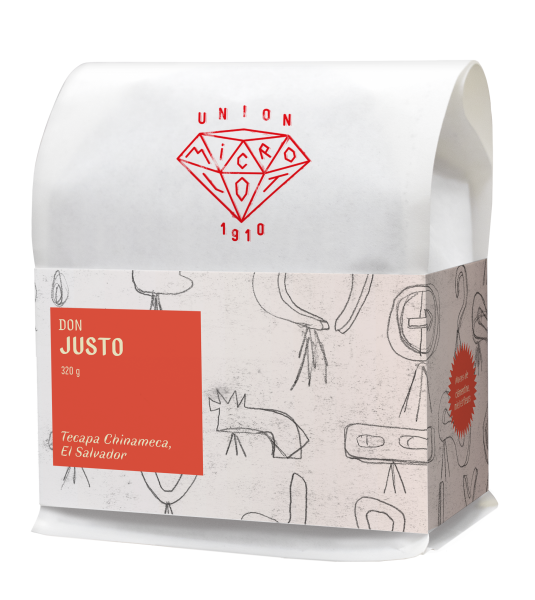 Don Justo

Light roast
Clementine | Honey | Fleurs
Origin : Tecapa Chinameca, El Salvador

Farm : Santa Emilia

Altitude : 1400-1600m

Variety : Red Bourbon

Process : Honey
Roasted on August 2nd 2021
Additional information
Don Justo's coffee stands out for its clear notes of clementine, its sweet notes of honey and cereals, a strong floral scent plus a nice and creamy texture!
The family-run business is inspired by their grandparents Rosa Emilia and Justo Pastor Gonzáles, who have previously harvested coffee in the Usulután mountains.
Appropriately, their grandkids were determined to restore and enhance the inherited land, to value honest work and altruism in the process, as well as respecting the achievements of their people.
Beyond their sense of community, each member of the Gonzáles family plays a well-defined role, ensuring high quality at every level. Whereas Justo (grandson) is chief of operations and César takes care of finances, Emilio has to deal with agricultural engineering. For her part, Alejandra Gonzáles is responsible for the infrastructure and architecture of their three farms, while Carla is committed to sound environmental practices. Together, they make sure to honour Don Justo's legacy.
The crop Justo passed on to them was already showing quite intriguing results, with its Bourbon coffee trees. Their great attention to details and their motivation for specialization were born out of this acknowledgment. And this is how the Gonzáleses won their first Cup of Excellence in 2003, with a coffee harvested on this very crop.
Since then, Don Justo accumulates projects and goals. On the one hand, like numerous other coffee producers nowadays, they started to focus more on processing techniques, so they can diversify their coffees and hope to get full potential of each lot. On the other hand, in the early 2000s, the business also began to roast its own coffee and sell it abroad in order to maximize profits and reinvest more easily in the region. As a result, their bag of roasted coffee is called "Don Justo, coffee with dignity" and communicates to the client what impact its sale has at the origin, in Tecapa Chinameca, El Salvador.
And we did just that - we purchased their coffee with dignity and respect, thanks to young import company Balam Coffee's mediation. We however bought it green (raw) so we could roast it ourselves in our space on Jean-Talon West, in Montreal.
This is a Red Bourbon lot harvested from Finca Santa Emilia, that has been "honey processed". Once harvested, the coffee fruits are brought up to what we call in Latin America a beneficio. This is where the coffee fruit is processed to become a hard and dry seed, in order to be properly roasted. The honey process involves drying the seeds with some part of the fruit (mucilage) still attached to them. This usually makes the coffee a bit more complex as the mucilage modulates the chemical composition during the drying phase.
That being said, this amazing lot appears to be really round, with vivid notes of clementine, honey, baked sugar and flowers. We first suggest to taste it as a filter coffee, to get all its fine nuances. Although, Don Justo's coffee can be really impressive as an espresso with a bit of milk on top or any equivalent!
The Union Microlot series seeks to promote entrepreneurs with noble initiatives and whose coffees really stand out as well as paying respectful prices considering the labour required and the quality that results from it.
Other items that may interest you